As featured in the Harvard Business Review (Jan. 11, 2021)


"How Companies Are Using VR to Develop Employees' Soft Skill"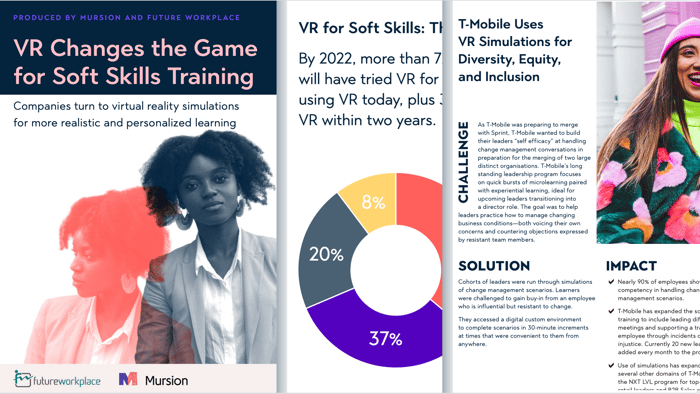 VR Changes the Game for Soft Skills Training

Produced by Mursion and Future Workplace

Release date: December 2020

Mursion and Future Workplace surveyed more than 300 learning and development leaders to discover which soft skills organizations value most in today's markedly more remote working environment. We also set out to understand how organizations currently develop these skills and what they believe will work best for soft skills training—especially now that in-person learning opportunities have all but disappeared.

Our findings revealed that personalized, immersive virtual reality (VR) simulations are moving out in front when it comes to closing soft skills gaps. They are especially beneficial in business-critical areas such as team management and collaboration; sales and customer service; and diversity, equity, and inclusion.

What's inside the study:

VR for Soft Skills: The Wave Is Rising
The Hard Truth About Soft Skills
Cracking the Code on Soft Skills Training with VR
H&R Block Uses VR Simulations for Call Center Agent Onboarding and Customer Service Training
T-Mobile Uses VR Simulations for Diversity, Equity, and Inclusion
Why VR for Soft Skills?
Human Skills Are Game Changers for Companies and Their People
Download "VR Changes the Game for Soft Skills Training"
Do you know...
...what the most critical soft skills for the next 12 months are?
Download the survey to find out what's top of mind for L&D leaders.
The working world after the pandemic will be...
...different. As companies emerge from the shadow
of the crisis, they will have a golden opportunity
to reimagine every single aspect of how they learn.
"Reimagining the Post Pandemic Organization" McKinsey, May 2020
H&R Block's data on the performance of their call
centers demonstrated that just two sessions led
to an improvement in performance equivalent to
3 months of on the job learning.